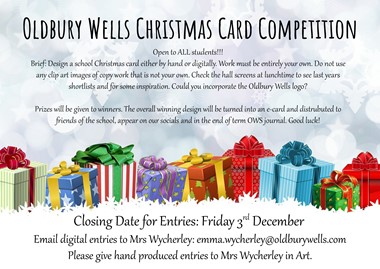 Christmas Card Competition
We are relaunching our Christmas Card competition.
Open to all students, we would like you to design a school Christmas Card either by hand or digitally.
You can check the hall screens at lunchtimes to see last years winners and the winning entry.
Prizes will be given to winners, and the overall winning entry will be digitalised and turned into an e-card, ready to distribute to friends of the school, appear on our socials and in the end of term OWS Journal. 
Work must be entirely your own and not use any clipart images or copy work that isn't your own.
Some ideas...
Could you creatively incorporate the Oldbury Wells logo into your card? It could be part of a wreath or a bauble.
You could take some inspiration from our local area! How about Bridgnorth high street? 
Think Christmassy and festive: reindeer, snowmen, angel, nativity, Santa, etc. 
The closing date for all entries is Friday 3rd December. 
Please email digital entries to Mrs Wycherley: emma.wycherley@oldburywells.com
Please give all hand produced entries to Mrs Wycherley in Art. 
Good Luck!!
Date Published: 23 Nov 2021