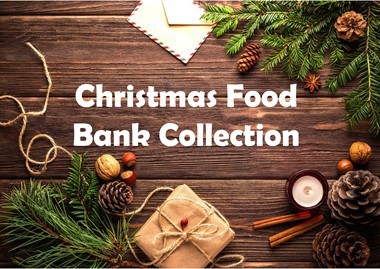 Food Bank Collection 2021
We are launching a house competition to bring in items for Bridgnorth Food Bank!
You might remember that last year we had a collection for Bridgnorth Food bank, to help people and families most in need over the Christmas season. 
This year, we'd like to launch it again, but this time as a House competition!! You'll find a donation station in East and West reception with four coloured boxes. Please place your donated items in the colour of your house. The last date for donations is Friday 10th December, at which point each box will be counted. The house which has donated the most items wins!
So far, the house in the lead is Friary with 1353 House Points, closely followed by Northgate with 1331 House Points. Westgate is in 3rd with 1257 points, and Castle is in 4th with 1250. This can all change before we break up for Christmas!!
Food banks work all year round to help those people in our community who are most in need, by providing food parcels with essential items. They are run by volunteers who give up their time to make sure that nobody goes without. The food packages handed out comprise of items donated by the general public, supermarkets, and schools like ours. 
Bridgnorth food bank are based on Castle Street, and help people within our local area. Each week they hand out approximately 1200 items!!! If every staff and student were to donate at least one item each, we could match this number! 
See the list below for suggested items of what you can donate - these posters are also at each donation station in school. Please only donate non-perishable items!
Remember, the last date for donations in Friday 10th December!
Suggested Items: 
Rice
Biscuits
Cereal
Crisps
Pasta Sauce
Soup
Tinned Vegetables
Tinned Meats
Squash
Long Life Milk
Fruit Juice (Concentrated not fresh)
Jar of Jam
Jar of Marmalade
Jar of Honey
Tea
Coffee
Sugar
Baby Food
Nappies
Baby Wipes
Dog Food
Cat Food
Washing up Liquid
Soap/Hand wash
Shampoo
Shower Gel
Toothbrush
Toothpaste
Deodorant
Toilet Roll
Feminine Hygiene Products
Christmas Items
Date Published: 24 Nov 2021