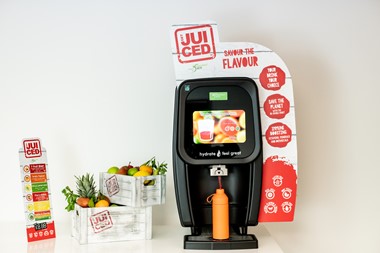 New Generation Juice Machines
This week we installed two new juice machines to help reduce plastic waste.
There has been a lot of talk around school about our two new Generation
Juice
machines!
In a fight against plastic waste, our new machines hold 500 drinks each, overall saving 1000 plastic bottles!
Students can purchase tokens from the canteen for 85p, and "can the can; throttle the bottle" by bringing their own reusable bottle to school and filling it with a flavour of their choice.
Each drink is 100% school compliant, infused with vitamins and minerals, and promotes hydration through chilled drinks including redberry, apple, cherry, lemon, mango, ginger and elderberry. Each drink is 100% gluten and lactose free, vegan, and use natural flavours and real juice.
Each year, every person throws away 34kg of plastic packaging just on their own! Most of this plastic cannot be recycled, causing irreversible damage to our environment.

Date Published: 02 Jul 2021