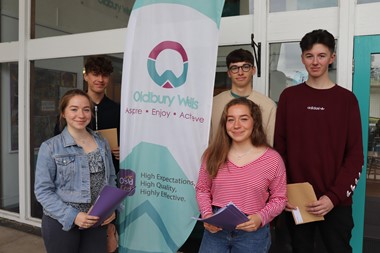 Oldbury Wells GCSE Results 2019
It was smiles and cheers all round as Oldbury Wells Year 11 students celebrated their GCSE results. Mrs Godden said, "We are delighted with this year's outcomes for our students.
Mrs Godden said, "We are delighted with this year's outcomes for our students. The results show that the progress students made during their time at Oldbury Wells has been very good." She added, "Our students have worked very hard and are on a firm footing for the next phase of their education." Miss Thomas, Principal Deputy commented, "We have seen a high number of pupils excited about enrolling for The Bridgnorth Sixth Form. It's super to be able to congratulate so many on getting into Sixth Form and onto their chosen courses."
Of the top performers, special congratulations must go to the following stduents: Elizabeth Lewis for achieving the highest "exceptional performance" grade, the Grade 9 in seven of her GCSE subjects and overall, achieving the equivalent of 9 A*/A grades. Oliver Andreae achieved a Grade 9 in six of his subjects also giving him the equivalent of 10 subjects at A*/A. Both Oliver and Elizabeth also achieved the A* Distinction in Further Maths, an additional GCSE in Maths designed to "stretch and challenge" the most able. Dominic Dewhurst achieved four Grade 9s with a total of 9 subjects at the A*/A equivalent. Abigael Russell also performed exceptionally well with four Grade 9s and overall nine of her subjects with an A*/A equivalent.
Overall, the school's data on the results shows that all indicators for "Progress 8" are positive. Since the Progress 8 measure was introduced three years ago, Oldbury Wells has consistently achieved an overall positive figure. Since the changes to GCSE, Oldbury Wells has secured strong positive results for four consecutive years. Our estimates show 78% of all grades are at a Grade 4 (Grade C) and above with 18% of all grades being at a Grade 7, previously a Grade A or better.
Mr Cowburn, Head of Year 11 commented, "My year group worked really hard and I'm pleased that so many have achieved great results they can be proud of. Well done to you all."
Oldbury Wells was also pleased to reports a strong set of A Level results for the many students heading to university or onto apprenticeships. Special congratulations got to Alex Henfrey for achieving three Grade As or above in Chemistry, Biology and Mathematics and an A grade in AS Level Mathematics. Louise Sherry for straight A grades in History, English and Psychology. Emily Scowen achieved straight A grades in Physics, Mathematics and Geology, together with an A in her AS Level Mathematics and a B in Further Maths A Level. Head of Sixth Form, Mrs Bishell said, "It's really encouraging this year to see such a diverse range of Further and Higher Education courses some of the students have secured places for. We have, for example, students going to read Physics, Mathematics, History and Archaeology, Geography and Economics, and English at university. Also Fashion and Business, Drama and Theatre and Teaching.
Date Published: 28 May 2020